Day 11
Wednesday, April 20

                     Across Alabama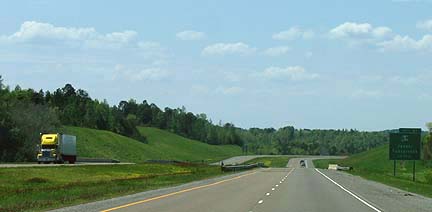 US 280 in northern Alabama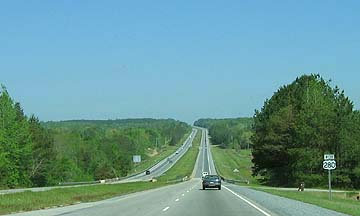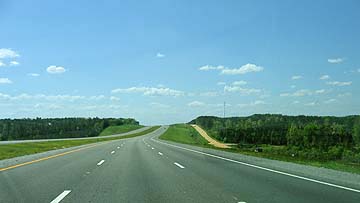 Once I left Georgia, that incredible intense green changed to a more ordinary olive or tawny green and the pine trees once more became black green. I don't know what it is about Georgia that makes the vegetation so very green. I noticed that in Alabama, I saw standing dead grass and forbs from last year mingled in with the new green grass, which doubtless is what gives it that olive cast -- what I don't understand is why there is no old dead stuff in Georgia. An interesting mystery.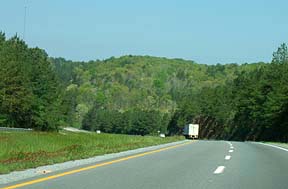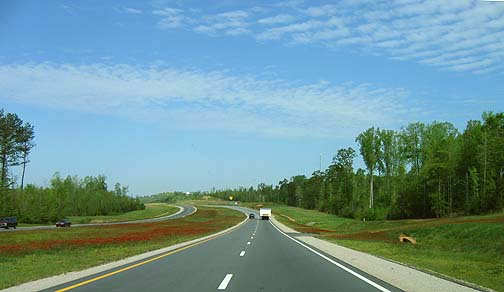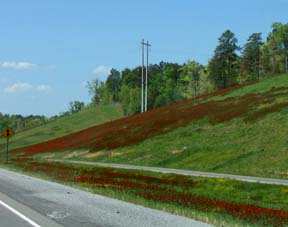 I started seeing a lot of the red roadside wildflowers again in Alabama. I first saw them along the roadside in Oklahoma and Arkansas... and here they were again, even more profusely. I thought they might be red clover. Karen Jacobs confirmed that and said they sow the seeds on the raw verges after doing road work, because the plant is good for erosion control. Nice that a practical plant is also so beautiful in springtime.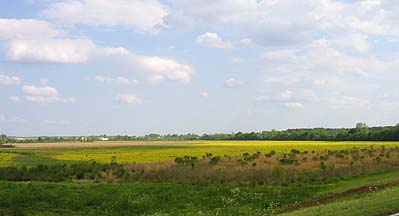 South and East of Birmingham, the country is quite wooded. I was once again amazed. Where are the farm fields, where are the grazing meadows? Once past Birmingham, continuing northeast on US 78, the land opened up more and I did see meadows though still no farm fields. The meadows sported a coating of little yellow flowers. If it were California, and if the yellow flowers were on a taller plant, I would say they were wild mustard; but these yellow carpets are a low creeping plant. Whatever they are, they are beautiful.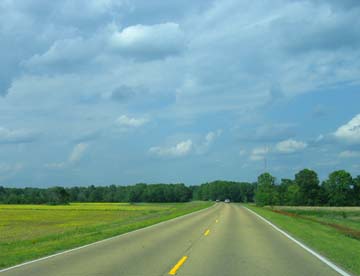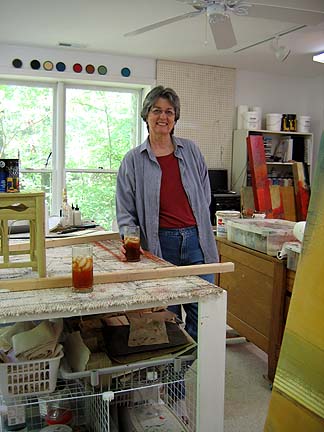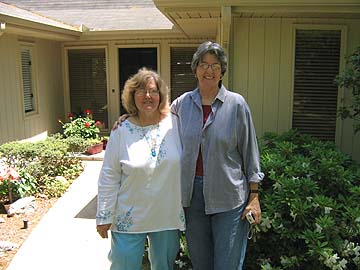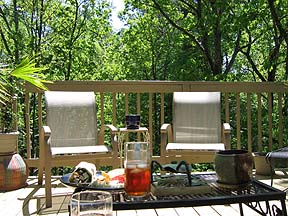 My route took me within 3 miles of Karen Jacob's house, an artist friend from the Paint-L email list, so I took the opportunity to stop and meet her face to face. Karen has a beautiful house that backs up into a lovely wood, and we enjoyed a bite of lunch out on her deck watching the birds and the squirrels at her feeder. It was great to meet her in real life; she is such a warm and friendly person.
<----- me and Karen in front of her house




<---- Here's Karen in her studio -- a roomy space that I envy, since my painting stuff has to share a mediumsized room with 2 people's office equipment.
Like magic, as I progressed across a corner of Mississippi, 2 hours or so SE of Memphis, I drove back into full springtime. Once again many types of trees are still in their light yellow-green early leaf -- of which Robert Frost wrote "Nature's first green is gold, her hardest hue to hold" -- giving the woods a light frivolous look that is so charming. This has been a great time of year to cover all these different states, all with their different beauties. This was my first trip through the Southeast and I found it far more beautiful than I expected. What a pretty country we have, as long as we can keep from wrecking it!
Windy was very happy to see me but she is still pretty horny. My girl is definitely a hussy.
The vacation part of this trip is now over -- for the next 4 days I explore no new vistas, I just plain drive home along boring old I40. I'll probably have a few comments, observations, and pictures along the way, but it will be covering old ground.