Thursday April 21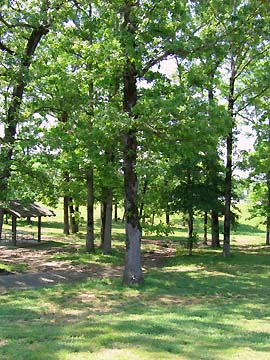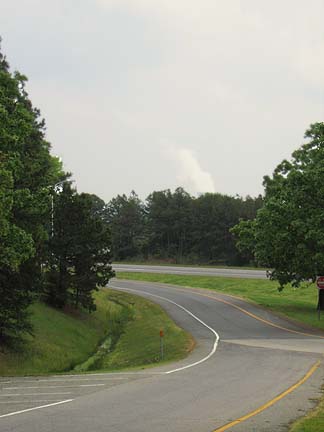 Today was sunny but hazy, so the middle and far distances were all in soft pastel hues. The wildflowers have progressed since I passed this way a week ago -- red clover is in heavy bloom in Arkansas but done blooming in Oklahoma. In Arkansas, the same low yellow flowers make great buttery stains on the landscape, sometimes intermingled with little white flowers. In Oklahoma, slopes and banks have zillions of little orange flowers covering them. There's nothing like travelling in springtime.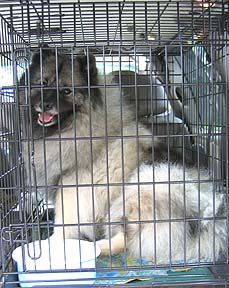 Windy is not making any fuss about riding in the car this time. In retrospect, maybe I misunderstood what was going on before. I think maybe the vibration of the moving car was driving her nuts because she was feeling horny. Now, after a week with Bentley, she is not fussed by it at all; but she is driving me nuts in the motel room demanding that I produce Bentley for her. I'll be glad when her hormones die down a little!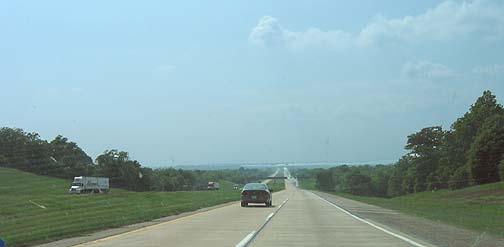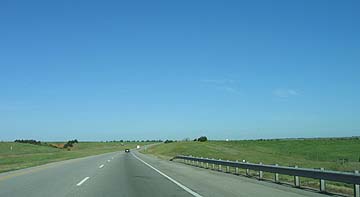 The Eastern woods were so beautiful, but as I emerge back onto open plain country I find my heart lifting and my spirit growing light. There is something about the wide horizons and huge skies that releases something in my soul. I am at home in the West.
Friday April 22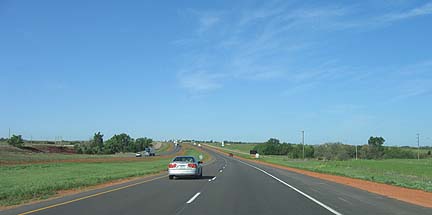 Heading west from Oklahoma City on a chill morning with half a gale of wind blowing. I'm back in the plains again with nothing but sky and horizon to look at. I wonder, has anyone succeeded in painting this landscape successfully? Where there is in essence no foreground or middleground... nothing but the feeling of limitless space.
Western Oklahoma has bright red dirt, which makes a pretty contrast to the spring greens.
An interesting note -- Texas does not supply roadside restrooms on I40. Picnic areas, yes, but sans facilities. It was a long haul from the last roadside rest in Oklahoma to the first roadside rest in New Mexico -- fortuitously right over the border.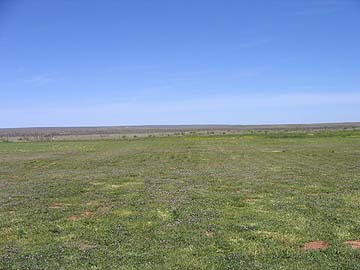 This is the famous Llano Estacado, that was a major barrier to westward movement from Texas. It is a very large flat area that is slightly raised from the surrounding terrain, so that watercourses go around it rather than across it. It has no surface water anywhere in its confines. Moving stock or draft animals across its expanse was an exercise in suffering before the days of artesian wells. USGS says about the Llano Estacado, "One of the largest expanses of near-featureless terrain in the U.S., it is an uplifted surface of porous, uneroded Late Tertiary river sediments veneered by late Pleistocene and Holocene wind-blown sand." If you are interested in the geological features you pass on the road, as I am, check out http://tapestry.usgs.gov/Default.html.
The high winds persisted all across Oklahoma and Texas and finally died away somewhere in New Mexico, thank goodness. Spring has arrived in New Mexico during the week and a half since I passed this way. The withered gray plains east of Albuquerque are lightly tinted with spring green and look so much more attractive.
Saturday April 23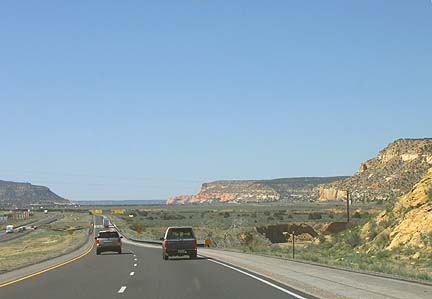 This turned into a marathon driving day. I left Albuquerque bound for Needles on the AZ/CA border -- but when I got there I found the motels had hugely increased their prices because there was a Harley rally in town -- the room that had cost me $62 on the way East, would cost me $150 tonight. Highway robbery! Indignant, I headed for the next town -- but that of course is Barstow, 140 miles of Mojave Desert away.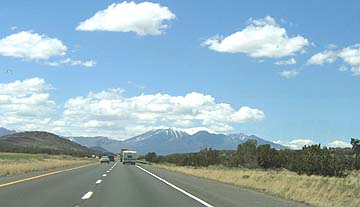 This is one of the best legs of I40. You start with the beautiful red cliffs of New Mexico, progress to Indian jewelry shopping in Gallup, then across the Navajo reservation with a couple more stops for Indian jewelry shopping; there's a great place to stop for lunch east of Flagstaff, then at the San Francisco Peaks you climb up onto a cool piney plateau. When the plateau finally ends you have splendid views out over the desert as the road drops down, and finally you arrive at the Colorado River.
The sudden change in plans proved again how useful travelling with a computer is. When I found out the motel in Needles was charging so much, I got out my laptop and sitting on my tailgate I Googled on "lodging Barstow pets" to get a list of hotels in Barstow that allow dogs, picked one, then went to its website to find its phone number. Disconnected the cell phone from the computer, called the hotel in Barstow and booked a room. Inifinite resources available at your fingertips wherever you may be. Love this technology.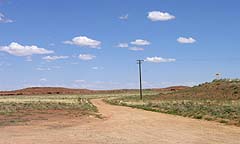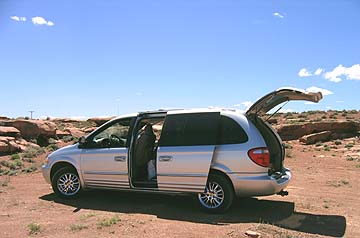 I like this lunch stop because you can get completely away from any roads. I take this dirt road to a little spot surrounded by red rocks, where I don't need to worry about passing cars running the dog down. So I tied Windy's 25-foot flexi leash to the back of the car, and let her explore around while I sat on the tailgate munching my lunch and reading my book. Windy however wandered around long enough to check for peemail and leave a couple of messages herself -- and then insisted on climbing back into the car.
Here's where Windy spent her lunch break. :-)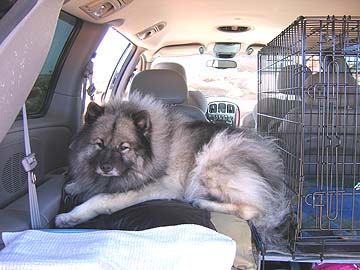 Driving over the Mojave in the evening light was absolutely splendid but unfortunately the pictures can't reproduce it. The distances were a myriad of delicate colors, every possible shade of blue and lavender, and the many receding lines of hills had marked aerial perspective. You'll have to use a lot of imagination on these pictures.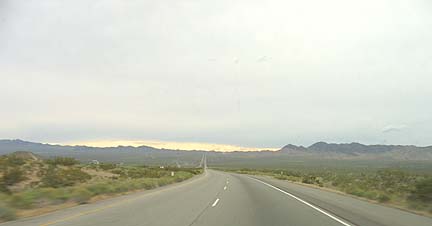 Sunday April 24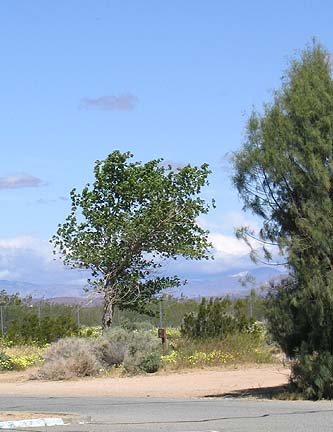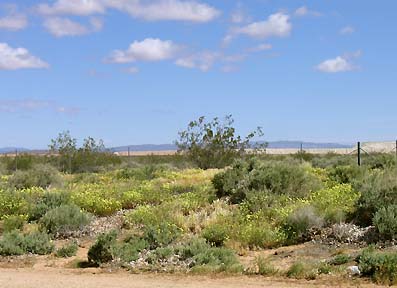 A leisurely start from Barstow on a clear morning with a strong cold wind blowing. I'm glad I had some warmer clothes with me. The high desert has its prettiest spring clothes on, too. I love travelling in Spring.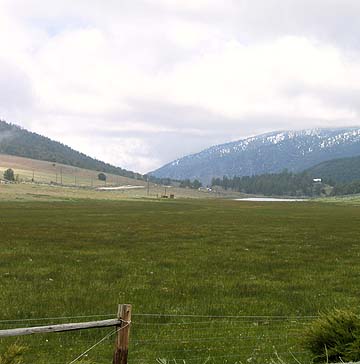 Leaving the sunshine behind, up the long gradient from the high desert to Tejon Pass via Hwy 138. This road goes through some prime California poppy country. The poppies were past their peak, but there were clots and swirls of another wildflower, vivid intense magenta, mingled with the more scattered orange poppies. Beautiful, but... Jim Fraser told me that 4 people were bitten by Mojave Green Rattlesnakes in the last week while walking the poppy hills -- the snakes are coming out of their winter hibernation and are cranky. I'm glad I just enjoyed the show from the car window as I drove by.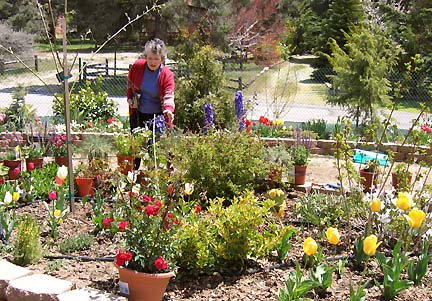 I stopped off to visit Jim & Joanie Fraser for a bit. They are dear old friends who live a little far away to see often and I try to take time to visit whenever I pass over the Grapevine. Joanie's garden is looking spectacular this Spring.
Note the snow on the mountains. A far cry from the warm green Southeast.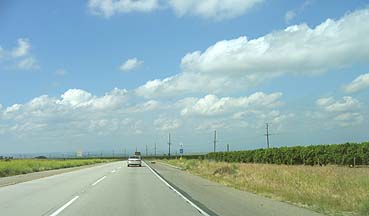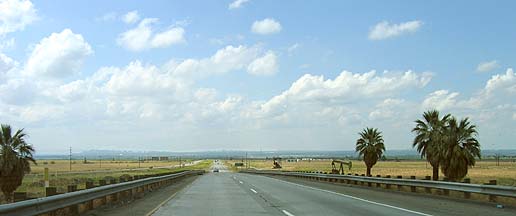 Up the central valley as far as Lost Hills.....
Over the hills to Paso Robles on Hwy 46, famous to my generation as the road that James Dean had his fatal accident on .... cameras see differently than people; you can barely detect the hills ahead yet they were quite prominent to the eye. I shoulda waited and taken the picture closer to the hills. Oh well.
Up the Salinas Valley, getting kinda late now...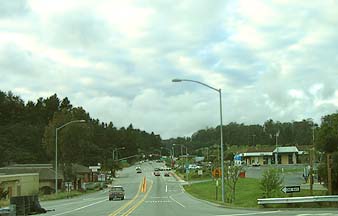 and home to beautiful downtown Prunedale with the last of the light.