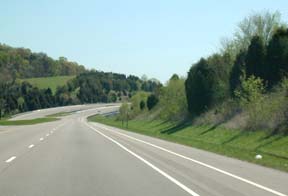 Well there is only one word for eastern Tennessee in the springtime -- gorgeous. I left Knoxville on I40 but immediately got off onto various US and State highways, and wandered through the countryside. Incidentally, Tennessee's non-Interstate roads are very good; easy driving and stress-free. Anybody who is going through this state and not in a huge frantic hurry would be well advised to use US70 or any of the other US highways rather than I40.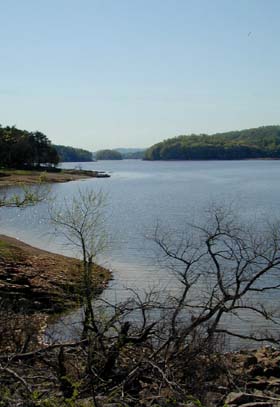 Travelling backroads without a navigator, I missed my turns any number of times and ended up exploring a lot more of Tennessee than I had originally intended. Bound for Johnson City, I ended up in Kingsport up on the Virginia border. I should have stopped and used a map at that point -- but instead I passed an onramp for I26 to Johnson City and jumped on it. Down to Johnson City then exited onto US 11E bound for Shady Valley -- missed my turn onto State 44 and ended up in Bristol, back up on the Virginia border. This time I stopped and did the map thing and found I could pick up US421 in Bristol which would take me eastward to Shady Valley -- but as it is, I progressed eastward like a sailboat goes upwind -- a long northeast tack, followed by a long southeast tack, followed by another long northeast tack. Oh well, at least I saw a lot of lovely countryside. In actuality, I could have used US11E to go straight across from Kingsport to Bristol and saved myself a lot of time and miles.
Eastern Tennessee is a place of water, and of fishermen. Everywhere I looked there was a stream, or a river, or a lake; and in most of them there was at least one guy fishing -- even somebody fishing in a little tumbling stream that ran alongside the highway right through the center of one small town.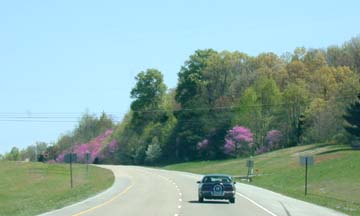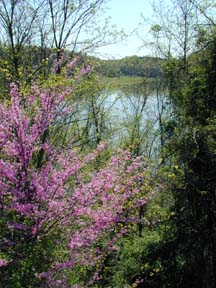 There aren't as many dogwoods as there were farther west, but the redbuds make up for it. In places there are huge banks of redbuds bordering the woods. Their branches are particularly beautiful silhouetted against blue water.