Christmas Presents for your Keesie Friends!

Proceeds go to Sierra Keeshond Club to support the 2008 National.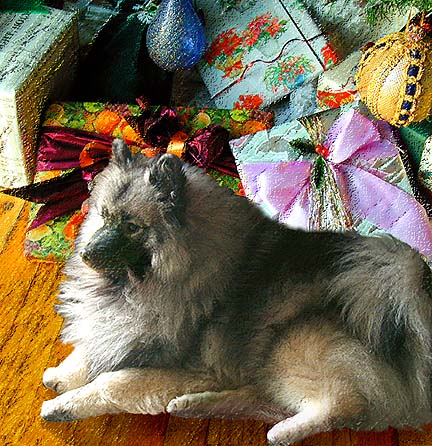 We have embroidered grooming aprons, and purses, shirts, and toyboxes all decorated with lovely Keesies; and fancy show leads to add bling to the ring.
Grooming Aprons
Aprons are available in several different Keesie designs and several different colors, all beautifully machine-embroidered by Barb Ryan Custom Embroidery. The aprons have adjustable neck straps and 3 pockets across the bottom. They are shortie aprons, not the knee-length style. Here's Barb wearing one of the aprons, to give you an idea of the style.... note that she has not tied the back ties; the aprons are more form-fitting when they are tied.
The aprons are $25 each.

Email Chris to order.
Here are the
different designs
and colors available ==>




Fancy Show Leads

We have beautiful braided leather show leads, 5 ft long, with or without decorative silver beads braided into the lead to give that extra little flash of bling. The plain braided leads are $25 and the ones with the silver-tone beads are $35. A tremendous bargain when you consider what similar braided leads cost at the show vendors'.

Email Chris to order.



| | | |
| --- | --- | --- |
| A classy dog deserves a classy lead! | | |



Handbags

Joanne Reed donated some lightly-used, like-new designer handbags, that I then decorated with painted Keesies and we now offer to you. You may have seen some of these bags at the National. I didn't have time to get all the donated bags painted up for the2007 National, so here you have a few more for your shopping pleasure.
$35 each.

Email Chris to order.




Small black leather Nine West shoulder bag


Inside is a compartment plus a zippered compartment


The back has a full flap which, when opened, exposes an organizer area.

Little shoulder organizer, black leather

Inside it has slots for credit cards, billfold area, coin purse, etc

On the back is a pocket for a cell phone, glasses, or ciggies

Interior of back pocket

Spacious navy leather Valerie Barad shoulder bag



T Shirts

We had a couple of TShirts left over from our sales table at the 2007 National.

Email Chris to order.

If you like these shirts but the size is wrong, you can order one in your own size at our Cafe Press store -- or order a shirt or other items in one of our other colorful designs. Don't miss the tile boxes -- they are really beautiful, and are available in a number of different designs.
Use this link to shop the Sierra Kees Club Cafe Press offerings.




This is a Medium -- but it's a Junior medium,
a lot smaller than the other one.
It has little cap sleeves.

This is an adult Medium,
with short sleeves.

This shirt is an XL with 3/4-length sleeves
and has our Club logo on it.



Ornaments


Here are some flat porcelain disk Christmas ornaments you can order from my own Cafe Press shop. They come with a red ribbon hanger. Proceeds still go towards Sierra Kees Club's 2008 National fund.
The ornaments are 2 1/2 inches in diameter. They are $15 each.



Doggie Toy Boxes

We will custom make a Keesie toy box for you for $300 plus shipping. Each toybox is made of sturdy plywood and painted with an individual design. This one with the Delft motif is the last one we made. The lettering on the end panels of this box reads "Genuine Keeshond Toy Box" in Dutch.

Email Chris to order.